About Us: Daniel Gutierrez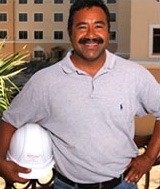 Vice President of Engineering & Facilities Management
Background
Bachelor's Degree in Industrial Engineering from Mexico City's Instituto Politecnico Nacional.
Worked in Mexico City as an Assistant Project Manager and as a Chief Engineer.
Worked in resort destinations such as Acapulco, Jamaica, and Lake Buena Vista as the Regional Director of Engineering for Americana Hotels.
Joined Rosen Hotels and Resorts as the Chief Engineer at the Rosen Plaza Hotel in 1990
Promoted to Vice President of Engineering & Facilities Management in 2006
At Rosen Hotels & Resort
Is an integral part of the ongoing Preventative Maintenance of Rosen Hotels & Resorts' existing locations and new properties
Provides his expertise in capital and maintenance projects and he is dedicated to energy savings all along the way.
Oversees all engineering projects at all Rosen properties.
Very involved in the construction of the new Rosen Shingle Creek.

What they are saying
"A pure example of proof in the pudding. Focused upon getting the job done and doing it better than all others."
Garritt Toohey, Vice President
"Daniel and I have been working together for 23 years. He is very dedicated to his job and likes everything to be done right. He's a very honest person and a good boss because he is very considerate. He truly is a people person."
Julie Pantojas, Engineering Executive Assistant