About Us: Dorea Mays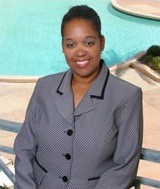 Associate Director of Human Resources
Background
Bachelor of Arts degree in Organization Communication from the University of Central Florida.
Worked at Budget Rent a Car for eight years in various Human Resources positions.
Served as Human Resources Manager for Goodwill Industries of Central Florida and for Argenbright Security.
Professional Human Resources Certification
Currently volunteers for Junior Achievement, Great Leaps Reading Program, Community Education Partners E-pal program.
Oak Ridge High School SAC chair.
At Rosen Hotels & Resorts
Provides guidance and training on Human Resource legal compliance.
Advises the management team on company policy, procedures and interpretation.
Handles internal and external investigations and complaints.
Resolves employee relations issues
Has contributed to the revamping of several management tools including the employee handbook and associate evaluation forms.
Developed and implemented company-wide training programs.
I am very passionate about my job. I love resolving issues and engaging in a good debate. My family is very important to me. I spend a lot of time on the baseball and football fields watching my sons play, and I have had many opportunities to travel because of baseball.
I truly believe in the power of positive thinking. My philosophy is that in life there are good times and bad times. No matter how bad things appear at any particular moment, think back to all the other bad times you've had. Remember that you are ok today, and take comfort in knowing that tomorrow will be better as well."
What they are saying
"Dorea is one of the nicest managers I've ever had the pleasure of working with. What I admire most about her is her understanding and fairness. She does not let her emotions get in the way of her decision making. Most importantly, whether rain or shine, she always has a great smile."
Elizabeth Gonzalez, Recruitment Supervisor
"Dorea shows a very sincere interest in all associates and assisting them at finding solutions to their concerns. She is very effective in guiding managers and line staff at the technique or resource available to rectify the issue at hand. Dorea is an excellent coach, has a wealth of knowledge and can be very objective while being consistent and fair."
Nancy Stock, Rosen Centre Reservations