About Us: Leslie Menichini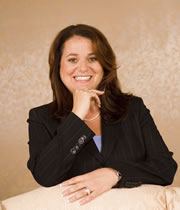 Vice President of Sales and Marketing, Rosen Hotels & Resorts Convention Properties/Rosen Shingle Creek
Background
Instrumental in the opening of Paris Las Vegas and other premiere hotels in Minnesota, Palm Springs, and Orlando
Director of Sales for Bally's/Paris Las Vegas
Executive Director/Corporate liaison for Park Place Entertainment's corporate sales office
Assistant Director of Sales at Walt Disney World Swan and Dolphin Hotel
Director of Sales at the Westin Mission Hills Resort in Rancho Mirage, CA
At Rosen Hotels & Resorts
Vice President Sales and Marketing, Rosen Hotels & Resorts, Convention Properties
Oversees the synergy and centralization for Rosen Hotels & Resorts' sales and marketing efforts, staff development and revenue management
Responsible for assembling and guiding the pre-opening team for Rosen Shingle Creek
Oversees the Rosen Green Meetings® program for the three convention hotels
Contributions to the Meetings Industry
Leslie supports the meetings industry through her involvement in industry associations and educational outreach. Some of her past and current professional involvement includes:
Rosen College of Hospitality Management at UCF (RCHM UCF) event management committee
RCHM UCF – Speaker
Board of Directors – Orange County Convention & Visitors Bureau
Chairman of the Orange County Convention & Visitors Bureau Sales Convention Committee (Co – Chair)
Florida Tournament for Tomorrow Chairman – two years raising funds for the college
Board Member – Society of Incentive Travel Executives (SITE)
Member of the Meeting Professionals International (MPI)
Member of Professional Convention Management Association (PCMA)
Member of Hospitality Sales and Marketing Association International (HSMAI)
Founding member of the National Association of Ichthyosis Foundation in Tulsa, OK
Kids Beating Cancer 2007 Committee
Building on a dream and watching it turn into a reality is something Menichini likes best about her job, and as the leader of the hotel's pre-opening sales and marketing team, she certainly was helpful to do just that at Shingle Creek. In addition to opening Shingle Creek, Menichini's responsibilities include synergy sales partnering with the director of sales for the Rosen Centre and Rosen Plaza Hotels, both bordering the Orange County Convention Center.
From Orlando to Las Vegas, Leslie Anne Menichini has worked in some of the best places that this country's entertainment capitals have to offer.
In Las Vegas, she was Director of Sales for Bally's/Paris Las Vegas and also was instrumental in the opening of Paris Las Vegas. Menichini worked as the corporate liaison for Park Place Entertainment's corporate sales office, concentrating on efforts to synergize the five Las Vegas hotels. Menichini's Orlando travels have taken her to the Walt Disney World Swan and Dolphin Hotels, where she was Assistant Director of Sales. To complete her well-rounded experience, the Madison, Wis. native held the position and was the pre and post opening Director of Sales at the Westin Mission Hills Resort in Rancho Mirage, Calif. The Westin Hotel, Tulsa, Okla and the opening team for the Radisson Plaza, St. Paul, Minn.

What they are saying:
I have had the pleasure of working with Leslie Menichini for most of my career. Leslie managed the Incentive Market as the Assistant Director of Sales while we were at the Swan and Dolphin Hotels, and she was the Director of Sales when we opened Paris leading up to Executive Director overseeing Park Place Entertainment collection.
Over the years, we have become close personal friends. Leslie is like family. You might think that this is a little "over the top" but, if you give her the chance, it will also happen to you. Leslie is by far, the most passionate sale executive I have ever worked with. When you dine with Leslie, it is usually at her home and it will be a meal you will long remember. A pick-up from the airport is usually done in person if not, she will always greet you at the front door. Get to know Leslie Menichini, she is one of the best our industry has to offer!
Michael D. Uhl, Regional Vice President, HelmsBriscoe Las Vegas
I have worked alongside Leslie Menichini for over five years now. She is one of the best salespeople I've ever met. Her unbridled passion for her job and the company far surpasses any other individual and it is this passion that carries us all to new levels and to exceed expectations.
Suzanne Kennedy, Director of Sales, Rosen Shingle Creek
In working with hotel sales and marketing directors as part of their marketing teams for close to 20 years, I've come to learn that it's very rare to find a director who has both a gift for sales and the creativity for marketing. It's usually an either or proposition. But Leslie — which is typical of her — defies the odds. Leslie is that rare director who in addition to possessing incredible sales skills exhibits a creativity and enthusiasm that ignites passion in everyone who works with her.
As the company's public relations representative, it's a pleasure for me to introduce her to visiting media, who immediately become as excited as she about the company and all of its possibilities. Her enthusiasm, whether it's for the hotel, her staff or just life, is infectious. As is her warmth and sense of humor. She has a way of making everyone who meets her feel as if they've made a new lifelong friend, which in fact, they have.
As a woman in business, she is also a wonderful role model, especially in her ability to nurture and develop long-lasting relationships with customers. Whether you work on Leslie's team or meet her at the hotel, you will eventually become an embraced member of "Mamachini's" family and be the better for it.
Mary Deatrick, DPR