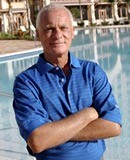 "Welcome to our website. It's been 38 years since I founded Rosen Hotels & Resorts, and ever since the very beginning, we've always been dedicated to creating meetings of exceptional value, providing impeccable service and creating events that help businesses grow.
So, in celebration of our 37th year, we're returning to our roots and bringing back the napkin contract. Why, you may ask? Because the napkin contract represents our history and our commitment to you. When it's all said and done, we want to partner with you to achieve your meeting needs and budget requirements.
To help you do just that, we're offering several specials at www.RosenHotels.com/ROI. Or go ahead and submit your very own napkin proposal or come and see us yourself
- Harris Rosen
President & COO
Thank you for contacting us.