Meetings & Events: Green Meeting Hotels
Orlando Green Meeting Hotels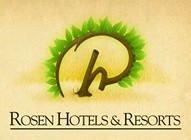 Rosen Hotels & Resorts is proud to announce that its three Orlando convention properties — Rosen Plaza, Rosen Centre and Rosen Shingle Creek — are the first hotels in Central Florida to achieve Two Palm status in the Florida Department of Environmental Protection's Green Lodging Program, and were numbers 8,9 and 10, among only 11 total Two Palm hotels in the state of Florida. The three properties were among the first 50 properties — the top one percent in Florida — to receive One Palm designation in 2007. The newly achieved Two Palm designation certifies that the hotels have increased energy conservation and pollution prevention measures since their One Palm certification just over a year ago.
The voluntary state initiative provides the lodging industry with free technical assistance, encouraging hotels and motels to adopt cost-saving "green" practices that reduce waste, conserve natural resources and improve the bottom line. Facilities can achieve up to three levels of green within the Florida Green Lodging Program ranging from One Palm to Three Palm based on increased reductions in waste, water and energy consumption.
"To us, Green Lodging is more than just another award or designation after our name. It's a real, everyday effort to continually reduce our footprint on the environment. It's because of this commitment and singular focus that Rosen Hotels & Resorts' convention properties are the first three hotels in Central Florida and among the first 10 in the state to receive the Two Palm status," said Harris Rosen, President & COO of Rosen Hotels & Resorts. "We started this process before DEP's program began, and we plan to continue our efforts, meeting and exceeding the state's standards not for accolades or for sales, but simply because it is the right thing to do."
To become a designated member of the Florida Green Lodging Program, hotels must implement a variety of green practices. These practices include, but are not limited to, water conservation measures by installing low flow plumbing fixtures and implementing a linen reuse program, and energy efficiency achieved by installing ENERGY STAR® appliances and programmable thermostats. The waste reduction criteria are met by providing the opportunity to recycle, purchasing items in bulk, purchasing recycled materials and by recycling ink and toner cartridges. All designated properties must also use green cleaners and high efficiency air filters, and clean air handler units frequently. The three Rosen properties went above and beyond the state's Green Lodging requirements by introducing several other eco-friendly programs, which include providing recycling bags in individual guest rooms and recycling containers in public areas.
Many of Rosen hotels' environmentally conscious practices are surprisingly simple but effective, such as turning off lights after meetings are over, using a programmable energy management system to control temperatures in meeting rooms, purchasing only paper and notepads that are made from recycled paper, placing water coolers in meeting rooms to alleviate use of plastic bottles and donating leftover convention items such as binders, notepads and pens to a local school serving an underprivileged area of Orlando.
Rosen Plaza, Rosen Centre and Rosen Shingle Creek have also introduced an eco-friendly meetings website called Rosen Green Meetings®, outlined at www.rosengreenmeetings.com. The informational website is designed to assist meeting planners who are interested in reducing the environmental burdens typically associated with large meetings and conventions. The website outlines current Rosen Hotels & Resorts' eco-friendly practices and also gives planners 10 tips for holding green meetings, such as utilizing a paperless registration system, recycling name badges and using recycled paper and signage materials.
Not only has Rosen Hotels & Resorts implemented and increased its recycling and energy conservation practices over the years, President & COO Harris Rosen has also taken an active role in conservation of the area's natural resources. In March 2007, Rosen, in partnership with the Florida DEP, launched a first-of-its-kind wilderness trip entitled: Expedition Headwaters, An Everglades Journey to Remember. Embarking from Rosen Shingle Creek in Orlando, two teams of kayakers and hikers traversed 140 miles of the Kissimmee River to Lake Okeechobee over 12 days. In keeping with the purpose of the expedition — to increase awareness of the hydrological and ecological connection of the Orlando metropolitan area with the Everglades ecosystem — team members observed the state's extensive restoration efforts, viewed restored portions of the Kissimmee River and recorded their observations through online journal entries and photography. In addition, the team, along with DEP's Environmental Education Office, conducted field labs with students from elementary and middle schools in the region, teaching them about watersheds, wetlands and aquatic ecosystems.
In fact, Rosen Shingle Creek, which opened in Sept. 2006, was designed with the environment in mind. "We made it a point in the design phase of Rosen Shingle Creek to conserve water and energy and to reduce waste as much as possible; as a result, we save valuable resources," said Rosen. "Guests may never notice the small changes we've made to help our planet, but those who do take notice applaud our efforts, because they too, are socially responsible citizens concerned about the effects man has on the environment."
Together, the three Rosen convention hotels offer the largest number of guestrooms, largest combined square feet of meeting/event space and closest proximity to the Orange County Convention Center of any Orlando convention hotels. Combined, they offer more than 3,600 rooms and more than 611,000 square feet of flexible meeting space and one of the nation's largest column-free ballrooms. An award-winning championship 18-hole golf course and golf academy, world-class spas, nearly two dozen dining, entertainment and lounging options, state-of-the-art fitness centers, a variety of tennis and sport courts, provide meetings attendees and leisure guests unparalleled convenience and amenities.