Orlando Hotel Group Promotes 13-Year Rosen Veteran DeeDee Baggitt
For more information, contact: Mary Deatrick DPR
(407) 332-5212 mary@deatrickpr.com
Photography available in the media gallery
Follow us on Facebook@RosenHotels
Follow us on Twitter@RosenHotels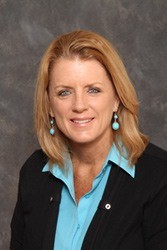 ORLANDO (March 23, 2012) – Rosen Hotels & Resorts announced today the promotion of DeeDee Baggitt from Associate Director of Engineering to Director of Engineering & Facilities. Baggitt has been with the Orlando-based hotel group for 14 years, with her last four years in the engineering department.
In her new role as Director of Engineering & Facilities, Baggitt manages all engineering departments including the central office engineering team, as well as laundries. She oversees all green initiatives companywide, manages expenses, and controls capital budgets, construction budgets and renovation projects. Baggitt also negotiates and manages contracts with outside service vendors. Her responsibilities extend beyond the seven hotels and encompass the University of Central Florida's Rosen College of Hospitality Management and the Jewish Community Center of Greater Orlando.
"Throughout her career at Rosen Hotels & Resorts, DeeDee has consistently proven her dedication, skill and ability to manage both people and projects effectively," said Daniel Guitierrez, Vice President of Engineering for Rosen Hotels & Resorts. "We are pleased that she has agreed to take on the role of Director of Engineering & Facilities and we are confident that the department will continue to run smoothly under her supervision."
Over the past 37 years, Rosen Hotels & Resorts has grown from 256 to approximately 6,300 rooms, approximately six percent of the total guest rooms in Central Florida. Today, the Rosen family of hotels, which includes the award-winning Rosen Shingle Creek, Rosen Centre and Rosen Plaza, and four leisure properties in the Orlando tourist corridor, including the Quality Inn International, Rosen Inn at Pointe Orlando, Rosen Inn closest to Universal and Clarion Inn Lake Buena Vista, remain committed to providing outstanding value for all guests.
For more information, visit www.rosenhotels.com or call 866-33-ROSEN.