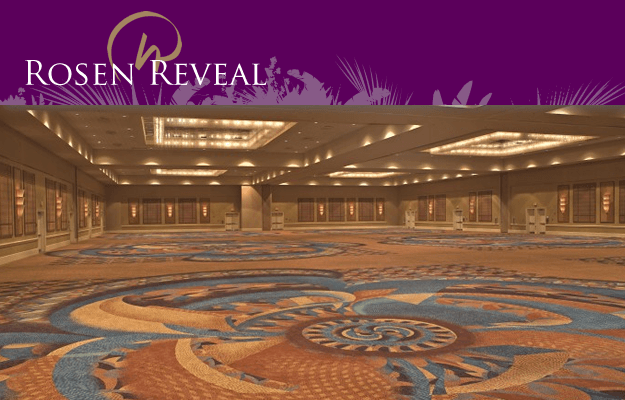 New Executive Ballroom
Orlando's award-winning 1334-room Rosen Centre, connected to the Orange County Convention Center via the Rosen Centre Skywalk, is now offering meeting planners even more luxurious, state-of-the-art meeting space with the completion of the new multi-million dollar Executive Ballroom.
The new Executive Ballroom offers 4,000 sq. ft. of pre-function space and 18,000 sq. ft. of state-of-the art meeting space conveniently located across from the two existing ballrooms. This new addition brings the hotel's total meeting space to 150,000 sq. ft., which includes the 35,000 sq. ft. Grand Ballroom, the 14, 375 sq. ft. Junior Ballroom, two 3,500 sq. ft. signature meeting rooms and 24 individual meeting salons.
Hotel "Drops the Towel" to Unveil New Spa, Salon and Health Club
The Spa at Rosen Centre features a 4,800 square foot spa with seven treatment suites as well as a 1,300-square-foot health club and an Olympic-sized heated pool. The salon within the spa offers services for nails, hair and makeup, featuring brands including OPI nail polishes, Pure Fiji body care, and Glo-Professional products, winner of the Day Spa Reader's Choice Awards for its glo-minerals makeup, glo-essentials salon services and glo-therapeutics face and body products. Products used in the spa include organic ingredients, are paraben and sulfate free and are not tested on animals. Before, after and between services, ladies and gentlemen may enjoy separate eucalyptus steam rooms and private lounges or "Relaxation Conservatories" outfitted with comfortable armchairs, flat screen TVs, light refreshments, healthy snacks, reading materials and convenient backdoor access to the pool. All guests receiving spa treatments, including local day visitors, are provided a private locker, plush spa robe and slippers and invited to use the pool and fitness center for free on the day of their treatment. Day visitors can take advantage of a separate private spa entrance at the front of the hotel as well as complimentary valet parking. Private transportation can also be arranged for a fee for day guests that choose to completely de-stress and not worry about driving. Meetings or leisure groups can also take advantage of chair massages, spouse programs or spa-related activities including health and wellness lectures from experts in the field. Gift cards are also available.