About Us: Jonni Kimberly
Director Emeritus of Human Resources
Background
Received an Associate of Arts Degree from Valencia Community College.
Started her career at Rosen Hotel & Resorts® as a Front Desk clerk at the Quality Inn International in 1979.
Promoted to Assistant Front Desk manager shortly thereafter.
Became the General Manager of the Rodeway Inn International in 1992.
Promoted to Human Resources Director in 1994.
At Rosen Hotel & Resorts®
Oversaw the hiring of 1,000 associates for the Rosen Centre® Hotel opening in 1995 and 2,000 for Rosen Shingle Creek® in 2006.
Spearheaded internal associate research while developing new benefits for associates.
Turnover rate has come from 50% to 20% since Jonni's appointment.
Co-chairs the Charitable Choices Committee.
Member of the Hotel Human Resources Association.
Involved in the Oak Ridge High School Partner in Education Program.
Member of the Valencia Community College Foundation Board.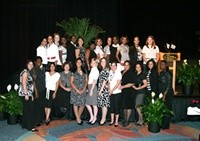 "To work with a team that is diverse in background, language, and knowledge is an honor for me. Trust and communication are the basis of our success. We are all committed to supporting the organization and that is a great motivation."
What Others Say:
"I have known Jonni since I started working here and that will be 15 years in October. She has always been patient and kind with me. Any time I have a questions she is very understanding. She also makes sure to say hello every time she sees me."
Mary Paul, Rosen Plaza® Kitchen