About Us: Kenneth Aldridge Jr.
RN-BSN, MS-H.S.A.
Director of Health Services
Background
Kenneth received his nursing degree from the University of Central Florida
He continued his studies and was awarded a master's degree in health services administration from University of Central Florida in 2005
Kenneth began his career at the Rosen Medical Center as a triage nurse in 1998
Within two years he was promoted to Medical Staff Manager
In 2004, Kenneth was promoted to Medical Center Administrator
Kenneth was promoted to Director of Health Services in 2008
At Rosen Hotel & Resorts®
Kenneth oversees all daily operational aspects of the Rosen Medical Center that includes various programs for the more than 4,700 covered lives of Rosen Hotels & Resorts®
He is and has served as the co-chair of the Annual Rosen Health & Benefits Fair since 1998
In 2012, he was a vital team member for the planning, design, and implementation of the new 12,000 sq. ft. Rosen Medical Center, a Place for Healing and Wellness
He has contributed to the expansion of the facility's service provision to the students of University of Central Florida's Rosen College of Hospitality and the Orlando Culinary Academy
Kenneth contributes diligently to cut healthcare costs for the medical center
Kenneth's implementation of preventative care programs have saved lives of Rosen Hotel & Resorts® employees and continues to ensure our employees have the best health education and resources to stay healthy
He holds membership in the American College of Healthcare Executives, the Professional Association of Healthcare Management, and the Medical Group Management Association
Since 2013, Kenneth also has served as the Vice President of Dream Big (501C3, not-for-profit foundation) and as an adjunct professor at the University of Central Florida College of Health and Public Affairs
Kenneth is a five-time awardee of the employee of the month and service advisory coach of the month awards
In 2009, Kenneth was honored by Rosen Hotel & Resorts® as manager of the year
In 2011, Orlando Business Journal recognized Kenneth as an outstanding health administrator
In 2012, Kenneth received the College of Health and Public Affairs Outstanding Alumni Award from the University of Central Florida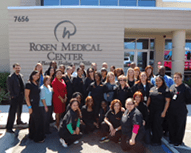 "Professionally I am passionate about the success and growth of the medical center and the wellbeing of its staff and patients. Personally, I am passionate about my family and my church, Grace Fellowship," says Kenneth.
What Others Say:
"Kenneth is a very honest, loyal, and dedicated person. He eats, sleeps, and drinks Rosen Medical Center. He's the best administrator we have ever had and will ever have."
Lisa Bonifant, Rosen Medical Center LPN
"Kenneth always strives for the best care and health of our associates. He is committed to the goals of our company and the future success of all. He does this is a caring, spiritual, and loving way."
Frank Santos, Rosen Hotels & Resorts® CFO