Qui sommes-nous: Rosen's Perfect Products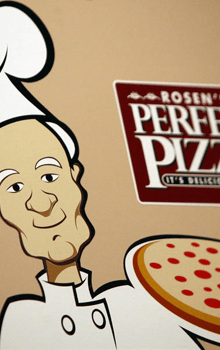 Perfect Pizza: Harris Rosen porte un certain nombre de chapeaux dans la communauté Floride centrale. Président et chef de l'exploitation de Rosen Hotels & Resorts ™. Généreux philanthrope. Chef de la communauté civique. Et maintenant, entrepreneur culinaire et créateur de la Perfect Pizza.

Même se il peut sembler surprenant pour un hôtelier se ramifier dans le développement alimentaire, Rosen, le concept est un mariage de ses nombreuses passions. Une cuisine amateur de week-end ainsi que d'un buff de fitness et maître nageur passionné, Harris Rosen a longtemps partagé son enthousiasme pour le bien-être de ses collaborateurs. Rosen Hotels & Resorts ™ a été reconnue au niveau national pour son innovante, -gardiste programmes de soins préventifs bien-être associé et.

Perfect Pizza de Rosen est une faible teneur en gras, Pizza faible teneur en sodium avec une croûte de miel de blé entier et de zéro gramme de gras trans. Bien que Rosen espère, à terme, lancer une gamme complète de parfaits Foods aux consommateurs via une multitude de canaux de distribution, notamment les épiceries, il ne verra pas personnellement un sou des bénéfices. Le philanthrope fera don de tous les bénéfices de la vente Perfect Pizza à la Fondation des bourses d'études Rosen, qui fournit des bourses d'études aux étudiants méritants Orange County.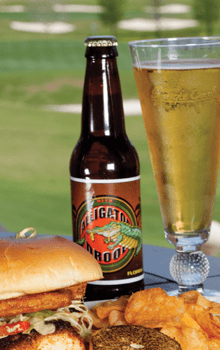 Alligator Drool: Une bière artisanale unique, évoqué par Harris Rosen Rosen Hotels & Resorts ™ pour créer une bière de marque de destination unique pour ses clients de la Floride et du monde entier pour profiter. Our specially-brewed organic pale ale is sold at our hotels' market places, lounges, and dining establishments.

Alligator Drool is brewed by the Orlando Brewing Company, which is located in Orlando, Floride.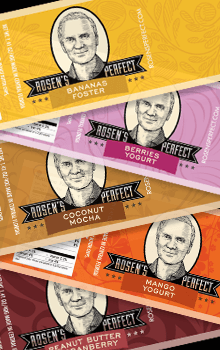 Bars Rosen Parfait: These bars are offered in all delis, on the golf course, and in banquet coffee breaks. Our high-quality 100% natural bars are gluten free, have no preservatives, and are made with only the highest quality ingredients. The Coconut Mango bar is vegan. Because they are made with no preservatives, the shelf life is recommended at three months to ensure our guest gets the freshest product possible.