Rosen Meetings Newsletter
Rosen Meetings Newsletter
Please click on the sections below for more details
+ What's New at Rosen Plaza®
+ What's New at Rosen Centre®
+ What's New at Rosen Shingle Creek®
Rosen Shingle Creek® Renovations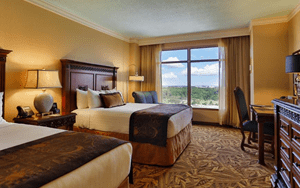 With Rosen Shingle Creek®'s upcoming improvements inspired by Florida's legendary sunshine, guests of the hotel will receive a warm welcome from the moment they arrive.

As they enter the sun-filled lobby, they will discover a new golden palette with jewel tones of honeycomb yellow and orange-tangerine that accent the original neutral tones used to complement the hotel's unique and natural setting on historic Shingle Creek, headwaters of the Florida Everglades. New metal art murals, imbued with the colors of sunset reflected in the still waters of Shingle Creek, adorn the walls. Expanded communal seating areas throughout the popular Headwaters Lounge create new "social" hubs to mix and mingle while enjoying magnificent views of the hotel's manicured gardens and pristine golf course.

In the guestrooms and suites, style and comfort artfully combine with a new custom carpet design playing off the fauna of Shingle Creek in shades of caramel and bronze. The luxurious Creek Sleeper beds feature new crisp white sheets dressed with chocolate and copper scarves from New York-based textile designer Stacy Garcia, a hospitality design innovator. Reflected in the fabrics, artwork and lighting are soft coppers, sky blues, teals and chocolate tones, bringing a modern feel to the guestrooms.

Soon, guests at Rosen Shingle Creek®'s Café Osceola buffet-style restaurant will dine among touches of sunset orange that mimic the sunshine streaming through its magnificent two-story windows. Tobias Flats & Watering Hole's refresh is inspired by the craft-beer phenomenon with warm hues of camel, copper and rich earth tones creating an industrial, rustic space.
---
Rosen Cares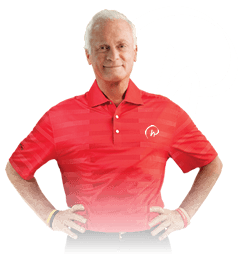 Rosen was being recognized for his more than 20 year commitment to the Tangelo Park Program, a three-fold educational community service initiative within the once drug- and crime-ridden Tangelo Park neighborhood of Orlando. In 1992, as Rosen was planning his seventh property, Rosen Shingle Creek®, he was struck with an overwhelming sense of gratitude for his many blessings and decided it was time to give back to his community. By 1993, he had created the Tangelo Park Program, a personally funded concept.

His innovative program provides free preschool for every two-, three-, and four-year-old child living in the neighborhood and a full community college or four-year college, or a vocational or technical school scholarship for every graduating high school senior. In addition, the program provides a Neighborhood Center for Families where parents can take parenting courses and obtain counseling and other resources to help them become positive role models for their children.

When Rosen created the Tangelo Park Program, the community's high school dropout rate was 43 percent higher than the national average. Not long after the program began, high school graduation rates soared with an almost zero dropout rate. To date, more than 280 young people have now attended college or vocational school.

Rosen's goal is to encourage other like businesses and individuals to adopt similar neighborhoods across the county to "Change the world one community at a time." To learn more, please visit: www.tangeloparkprogram.com.
---
Rosen Hotels Named Country's Top Meetings Hotels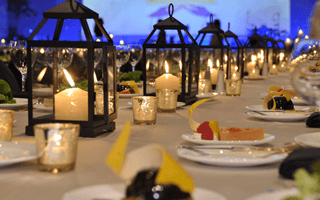 Rosen Shingle Creek® and Rosen Centre® are top ten in Orlando in Cvent's Top 100 Meetings Hotels in America list and are owned and operated by Orlando's Rosen Hotels & Resorts®, the largest independent hotel group in Florida.

"It's wonderful to have been named to Cvent's Top 100," said Leslie Menichini, VP Sales & Marketing, Rosen Hotels & Resorts®. "We are proud that Rosen Shingle Creek® has ranked among the top 20 meeting hotels in the country, while Rosen Centre® has entered the top 100 for the first time. This distinction is not only an honor for us at Rosen Hotels & Resorts® but also speaks to the strength of the Orlando meetings market."

Rosen Shingle Creek® features 524,000 square feet of meeting and event facilities, including the 95,000-square-foot, column-free Gatlin Ballroom, 60,000-square-foot Sebastian Ballroom and 40,000-square-foot Panzacola Ballroom, which combined can accommodate up to 9,500 guests. The hotel also features 55,000 square feet of breakout meeting space and 100,000 square feet of pre-function space, as well as more than 72,000 of outdoor space, including a 40,000-square-foot event lot. The outdoor terrace is an exceptional setting for luncheons or sunset receptions. The AAA Four Diamond hotel offers 1,501 elegantly appointed, oversized guest rooms and suites, including 191 parlor suites, 30 hospitality suites and three presidential suites.

Offering unparalleled convenience, service and amenities, Rosen Centre® offers 1,334 guest rooms and suites, and 150,000 square feet of state-of-the-art meeting space directly connected to the Orange County Convention Center. The hotel offers a choice of three impressive ballrooms – the 35,000-square-foot Grand Ballroom, 18,000-square-foot Executive Ballroom and 14,375-square-foot Junior Ballroom – as well as nearly 40,000 square feet of pre-function space and 35 elegantly appointed meeting rooms.
---
Rosen Hotels & Resorts® In The News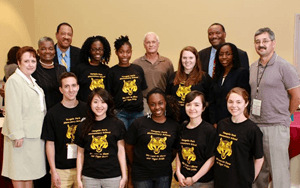 We hope you enjoy our latest news, an article in the New York Times sharing the story of owner Harris Rosen and the Tangelo Park Program.

View Article
---
Kosher Catering Service to Open at Rosen Plaza®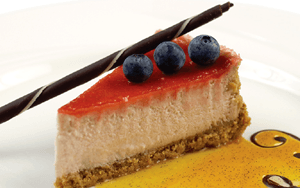 Introducing Zayde's Kosher Kitchen. From births to Bar and Bat Mitzvahs, to Shabbat dinners, holidays and weddings, for every special occasion Rosen Hotels and Resorts is proud to offer the only Kosher catering service in Florida that can meet all your needs. Whether your event is a small gathering for 10, a banquet for a special celebration or a large corporate meeting of 2,800, Zayde's offers creative International & American Kosher cuisine.

For more information or to book your upcoming kosher event, please contact 407.996.1704.
---
Club 39 at The Plaza Deemed Orlando's Hottest New Nightspot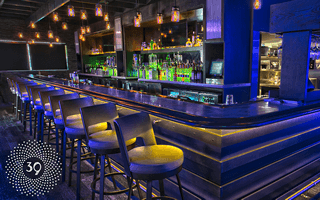 The all-new Club 39 At The Plaza is inside the Rosen Plaza® hotel on International Drive, replacing the Backstage Nightclub & Sports Bar.

The 5,000-square foot haute club venue can accommodate 500 people indoors, or 1,500 guests when the event is extended to the patio and pool deck, called 39 Poolside Bar & Grill. Here, guests can enjoy balmy evening breezes, swaying palm trees and beautiful poolside scenery with their cocktails in hand while still enjoying the indoor nightlife scene. Two centrally located bars serve guests both indoors and outdoors.

"Club 39 At The Plaza represents yet another way that Rosen Plaza® is working to better entertain and serve our guests, whether they are locals coming for a night out on the town, leisure guests visiting Orlando for a few nights or those in town for a wedding, reunion, corporate meeting or convention," said Victoria Hall, Director Sales & Marketing for Rosen Plaza®. "This beautiful new club offers all our guests a classy and exciting place to spend an evening without ever leaving the hotel."

Ideal for corporate events, wedding receptions, private parties and more, the new club provides groups with a dedicated, onsite daytime or evening event space already outfitted with all their audio/visual needs and already fully decorated and themed, with no build-outs or expensive rentals needed. All of the club's monitors and screens can be used for corporate logos, presentations, slide shows, sporting events, music videos or a combination of these. The 30 x 13-foot stage can accommodate live bands or a DJ, while the social media photo booth beckons guests to snap selfies and group shots, with backgrounds customizable for corporate or social events.

To book your next Club 39 At The Plaza event, contact 407.996.9700.
---
Rosen Centre®'s New Harry's Poolside Bar & Grill Ideal Locale for Tropical-Themed Parties and Events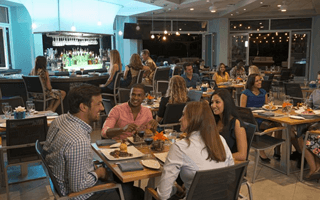 The most popular events that have guests talking for months afterwards include a creative venue and spectacular food and beverage service. As meeting planners well know, when you find a hotel with exceptional service, you've already won half the battle. Rosen Hotels & Resorts® strives to offer not only the most memorable service, but many other in-house offerings and talents to help planners add value to their meetings and save on budgets.

In addition to Club 39 At The Plaza, the new Harry's Poolside Bar & Grill at Rosen Centre® allows a planner to take advantage of all of these attributes. A planner can easily take advantage of these venues to make the most of what a hotel has to offer, not only in terms of menu, but also location, atmosphere and décor.

Harry's offers flexible indoor/outdoor seating and event space overlooking our beautiful outdoor tropical swimming pool and patio. The upscale, contemporary décor at Harry's is done in shades of teal and tropical blues that blend seamlessly with the swimming pool and Orlando's blue skies to make guests feel like they've escaped to the Caribbean.

"Harry's is the perfect spot whether you have a corporate dinner of 90 hosted indoors or a special event incorporating both the indoor and outdoor seating, as well as the pool deck, for up to 900 guests," said Todd Frappier, Director of Sales & Marketing, Rosen Centre®. "A variety of seating both inside and out, including bar height and regular dining tables, as well as cushioned outdoor chairs and sofas, provide plenty of dining and mingling areas for seated or casual events. And of course, meetings attendees absolutely love being outdoors in our Florida sunshine"

To book your next event at Harry's Poolside Bar & Grill, contact 407.996.3970.
---
Made for Dreamers and Deal-Makers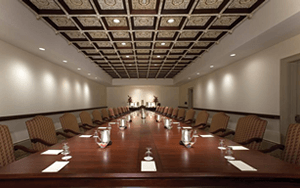 Since Rosen Shingle Creek® first opened its impressive doors, this Orlando original has flourished as one of the city's most treasured destination hotels.

As a premier meeting and event venue, Rosen Shingle Creek® offers all the luxurious amenities attendees need to succeed, including spaces as inspiring as the city it happily calls home.

Book Now