Building America One Community At a Time®
The community is one of our highest priorities at Rosen Hotels & Resorts®. We have a great commitment toward dedicating substantial resources of time, money, and hands-on help to the ongoing improvement of our hometown and its people. Over the years, Rosen Hotels has led a number of initiatives to enhance the quality of life of our immediate neighbors, our city, and our industry.
Corporate Giving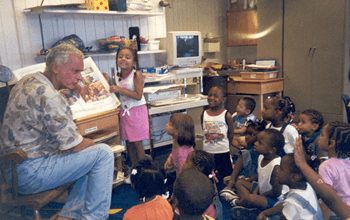 Rosen Hotels & Resorts® supports organizations that impact our associates and enhance the quality of life in the Central Florida area. Our financial and volunteer resources are focused on the areas of education, wellness, animal welfare, and cultural diversity.
All charitable requests, whether financial or in-kind, must be submitted through our website by completing the online Community Giving Form.
Collectively the Harris Rosen Foundation and Rosen Hotels & Resorts' numerous charitable efforts are recognized as a leader of Corporate Social Responsibility (CSR) activities within Central Florida and beyond. We enthusiastically support groups hosting similar events at our hotels. To them, we offer our experience and resources to help empower these organizations to create and plan effective events with the most rewarding outcomes. Please feel free to contact RosenCSR@rosenhotels.com for assistance and details.
Harris Rosen Foundation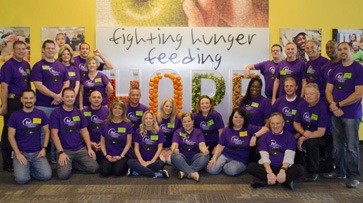 Groups that benefit from the Harris Rosen Foundation are significant to Harris Rosen, president and owner of Rosen Hotels & Resorts®. Aside from his love for the hospitality business, Mr. Rosen has a passion for giving back. Through the years the foundation has focused on education, the community of Tangelo Park in Orlando, and the people of Haiti. Now that passion is growing and extending to newer communities and groups in need.
Adam Michael Rosen Foundation, Inc.
On November 23, 2018, the Rosen Hotels & Resorts and members of the Rosen family announced with heavy hearts the passing of Adam Michael Rosen, 26. Adam, Harris Rosen's third child of four, gifted us an unimaginable legacy. The Adam Michael Rosen Foundation, Inc. was created by the Rosen Family to honor the life and fight Adam gave in his battle against cancer by aiding others in their fight. To help others fighting cancer has become its mission. We want you to know that Adam is fighting in your corner with you.
Tangelo Park Program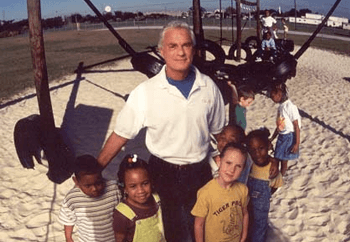 The community of Tangelo Park is located approximately one-quarter mile southeast of Orlando's International Drive tourist area. From the late 1980s through the early 1990s, Tangelo Park characterized a typical urban community with low socioeconomic demographic problems: overt drug problems, poor school attendance, declining test scores and increasing high school dropout rates.
The Tangelo Park Program began as a result of a grass roots program that attracted local media attention and attention from local government, civic groups, and Harris Rosen. In 1993, after a successful effort to reclaim their neighborhood from urban blight and drug dealers, Tangelo Park community leaders met with Mr. Rosen and the Orange County School Board superintendent to discuss the possibility of a scholarship program for Tangelo residents; together they established the Tangelo Park Program.
Mr. Rosen provided the financial backing for the project and collaborated with community leaders to establish an advisory board with the continued support of the Tangelo Park Elementary School, the Tangelo Park YMCA, Tangelo Baptist Church, and the Tangelo Park Civic Association. With financial support guaranteed by Mr. Rosen, the Tangelo Park Program oversees the fundraising, educational needs, and scholarship distributions for its citizens–ages 2 to 22. At no cost to its citizens, TPP offers:
Pre-school opportunities for every Tangelo Park 2-3-4-Year-Old
Parenting classes and vocational or technical opportunities for parents with children in school
Full tuition, room, board, and living expenses for every Tangelo Park high school graduate who is accepted by a vocational school, community college, or public university in the state of Florida
Watch a video about the Tangelo Park Program
Visit the Tangelo Park website
Second Multimillion-Dollar Community Education Initiative Launched in Parramore
In the neighborhood of Parramore west of downtown Orlando, Mr. Rosen launched a second iteration of his highly successful community education initiative program. This program mirrors the successful one launched in Tangelo Park. Young children in the neighborhood receive free preschool education and care. Teachers' salaries will be paid for by the Harris Rosen Foundation. Twenty-four preschool classrooms designed to accommodate up to 12 children each, for a total of 288 children, will welcome two-, three-, and four-year-old children.
Children who attend the Parramore pre-school, the new elementary and middle school, and then graduate from Jones High School, will receive a free two or four-year college or vocational school education, also paid for by the Harris Rosen Foundation. Free tuition includes meals, books, and transportation.
The University of Central Florida (UCF), who is a partner in this initiative, announced that scholarships will be provided to four-year degree students of the College of Medicine who attended the new Parramore School, graduated from Jones High School, and successfully completed an undergraduate program at UCF.
The Rosen Foundation Scholarship
The Rosen Foundation Scholarship Endowment has been created to fund the Tangelo Park and Parramore Scholarship Programs, the UCF Hospitality School Scholarship Program, and Rosen Hotels & Resorts®' Dependent Scholarship Program.
Rosen College of Hospitality Management at the University of Central Florida
With Orlando fast becoming the most visited tourist location in the world, Harris Rosen believed it would only be fitting for the city to have the best hospitality program available in the country. He donated $10 million to establish the Rosen College of Hospitality Management at the University of Central Florida, which was built right next to Rosen Shingle Creek® hotel. The gift is the largest ever pledged to or received by the UCF Foundation. Under current Florida law, gifts of this size qualify for dollar-for-dollar state matching, which translates into $20 million for a facility and faculty providing students with a world-class education equal to the Orlando hospitality industry itself.
After the initial donation to the UCF Foundation, Mr. Rosen continued to help financially to ensure the school employed leaders qualified with proper vision and guidance. This help established an endowed deanship from which those who've served in this role have helped keep Rosen College of Hospitality Management at UCF on the cutting edge of industry trends.
Bethune-Cookman College Bronze Statue Project
Harris Rosen served as the honorary co-chair of the Bethune-Cookman College Statue Project with the late Dr. Dorothy Height, President Emeriti of the National Council of Negro Women. The purpose of this initiative was to have a statue sculpted of America's beloved Dr. Mary McLeod Bethune including fountains and landscaping on the campus of Bethune-Cookman College, which Dr. Bethune founded in 1904. The fundraiser was a huge success. In January 2005, the statue was unveiled on the Bethune-Cookman College campus.
Rosen YMCA Aquatic Center
Like all great stories, the one behind the Rosen YMCA Aquatic Center has drama, tragedy, and a heroic happy ending. The competitive swimming center almost completely shut down taking away a valuable local training spot for special Olympians and other famous swimmers as well as local swimmers, such as Harris Rosen. The day in 1992 when Mr. Rosen arrived to find its doors locked and a team of special Olympians displaced outdoors changed the course of the center's history. That chance moment in which the special Olympians asked if they had done something wrong to close the place sparked a campaign to save the center lead by Mr. Rosen. With great financial help from Mr. Rosen and the community, the aquatic center reopened. Later it was gifted to the YMCA of Central Florida.
Then in July of 2018, Dan Wilcox, President and CEO, YMCA of Central Florida, decided to rename the center saying, "Harris Rosen took it upon himself to save this facility, and, at the time, gave the YMCA of Central Florida one of only two competitive swimming centers in Florida. This allowed us to increase our impact in the Central Florida community and it is only fitting to honor him by renaming this facility." The Rosen YMCA Aquatic Center now serves the best youth group of divers in America, synchronized swimmers, master swimmers, high school swimmers, and senior citizens seeking therapeutic water treatment. The greatest accomplishment of the center in Rosen's eyes is helping empower children by teaching them drowning prevention and swimming skills. "Who knows how many children have avoided water-related tragedies because of the programs here at the Aquatic Center. It truly saves lives, and I will forever champion the cause to keep our children safe in the water," said Rosen.
Haiti Relief-Rebuild-Sustain Program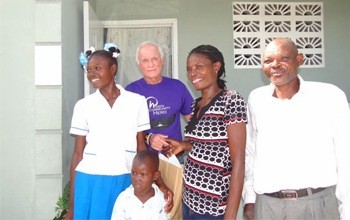 For more than a decade, the Harris Rosen Foundation has helped Haitian brothers and sisters living in Haiti attain a level of self-sufficiency. Since the 1990s, school and medical supplies have been collected and delivered directly to hospitals, schools, and orphanages needing support, ensuring all supplies go directly to those most in need. In 2010, just after the devastating earthquake, the Foundation met with local leaders and the Haiti Task Force to assess the needs of Haitians and devise a plan of action to help.
Water
Providing a clean water supply is the most important area where Haiti needed the most help. Much of the water in Haiti is so contaminated that just one glass may cause serious illness or even death. To help address this life-threatening issue, the Harris Rosen Foundation and the Haiti Task Force hosted the Water for Haiti Gala on September 10, 2005. The funds raised at the gala were used to purchase nearly 250 water filtration systems to help provide safe, drinkable water. The Haiti Task Force delivered these to hospitals and schools in rural areas across Haiti.
Houses
Shortly after the devastating earthquake of 2010, the Harris Rosen Foundation delivered 20,000 pounds of supplies to the Port-au-Prince and Beauchamp areas. Since then, the Foundation has focused on rebuilding, including constructing sturdier buildings. After much brainstorming, the plan to build eco-friendly, earthquake and hurricane resistant buildings called Little Haiti Houses was born.
The Harris Rosen Foundation partnered with international nonprofit Food for the Poor to build or rebuild 105 homes in Jon L'Abeille, a small town in the city of Cayes that was devastated by Hurricane Matthew in 2016.
Jack & Lee Rosen Southwest Orlando Campus and the Rosen JCC
Since the Harris Rosen Foundation purchased the property on which the Jewish Community Center owns and operates the Jack & Lee Rosen Southwest Orlando Campus, the campus has seen a boom in growth and improvement. The Rosen Campus opened in 2009, featuring new classrooms, meeting space, a fitness center, and gymnasium. In 2015, the Rosen Campus incorporated as an independent organization and named itself the Jack & Lee Rosen Jewish Community Center. Further expansions that year included additional classrooms, a 500-seat auditorium and theater, a new fitness area, a dedicated babysitting room, and music practice rooms. "Education and recreation are vital to the center's role in the community."
In addition to contributing to the expansions at the Jack and Lee Rosen Jewish Community Center, Mr. Rosen has committed to help reduce the debt of the Maitland Jewish Community Center with a $1 million dollar matching funds capital campaign. Learn more about the Jack & Lee Rosen Southwest Orlando Campus and Rosen JCC.
Cornell Alternative Spring Break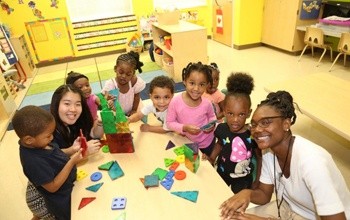 In March 2008, Cornell University expanded its Alternative Spring Break program to send its college students to Tangelo Park in Orlando, Florida. Cornell students who volunteered for this hands-on learning opportunity in our city spent spring break with the children of Tangelo Park to enrich their college studies and, in turn, enrich the lives of the children they served. Every year since, Cornell students spend their spring break volunteering in Tangelo Park.
The inaugural spring break of 2008 attracted nine students to spend a majority of their time working with pre-school through fifth grade students at the Tangelo Park Elementary School. They also participated in a science night in conjunction with sixth graders from Southwest Middle School. Cornell students also mentored students of Southwest Middle School and Dr. Phillips High School. Within their busy week, Cornell students made time for art projects with some of the two-, three-, and four-year-old children in the community.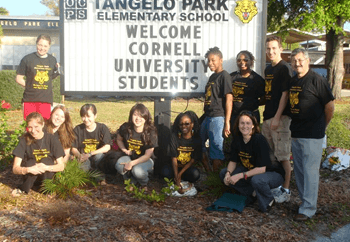 Cornell University's Alternative Spring Break program offers its students the chance to hear personal stories from the students and residents of Tangelo Park, educators, service personnel, and care providers who all provide insight into the Tangelo Park community. The week ends with a reflection session where Cornell students and a planning team examine the effects of public service and philanthropy on at-risk families and their experience with socioeconomic diversity, community involvement, and current social issues in the Tangelo Park community.
---
Videos
Cornell University's Day of Service With the Tangelo Park 2-3-4-Year-Old Program (2018-2019)
2017-2018 Cornell Alternative Spring Break
2016-2017 Cornell Alternative Spring Break
---
Green Meetings & Lodging Initiatives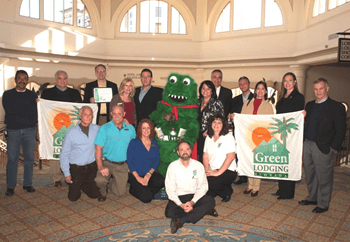 In 2008, Rosen Hotels & Resorts® launched Rosen Green Meetings, an environment-friendly meetings initiative designed to assist meeting planners in reducing burdens to Florida's natural resources typically associated with large meetings and conventions, including reducing excess paper hand-outs and forms. On the Rosen Green Meetings website (www.rosengreenmeetings.com), planners will find tips for holding greener meeting and links to additional green meeting organizations. Planners will also learn in greater detail how Rosen Hotels & Resorts® helps the local environment while hosting great conferences, meetings, and vacations.
The Florida Department of Environmental Protection recognizes Rosen Hotel & Resorts® for these efforts, to which we've been awarded the esteemed Green Lodging Program Three and Two Palm Hotel designations. These awards certify that a hotel has voluntarily increased energy conservation and pollution prevention measurements and is committed to conserving and protecting local natural resources.
We also make it easy for our guests to enjoy an environmentally-conscious stay at our hotels. Guests at Rosen Plaza®, Rosen Centre®, and Rosen Shingle Creek® have access to electric vehicle charging stations, thanks to a partnership with Orlando Utility Company. An organic herb garden at Rosen Shingle Creek® provides farm-to-table flavors, and the Shingle Creek Golf Club converts used cooking oil from our hotel restaurants into bio-fuel used by our golf course maintenance equipment. Leftover food from our restaurants is converted into animal feed and compost by an off-site facility.
For all the efforts visible to guests, just as many—if not more, take place behind the scenes. Instead of driving to work, Rosen associates can opt to ride the bus at a discounted rate.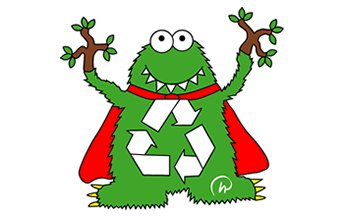 Our eco-friendly efforts are a big part of the Rosen Hotels & Resorts® way of life, so much that we adopted a friendly green mascot named Nesor, the Eco Hero™, to symbolize our environmental-conservation efforts. (Nesor is Rosen spelled backward.) "Nesor attends community and employee events and reminds the Central Florida area about the importance of being green," said DeeDee Baggitt, director of engineering. Once a year, an associate who has promoted outstanding green efforts and created new ways to help the environment is recognized with the Environmental Steward Award. Being green isn't just part of our culture, it's a huge part of how we do business.
Coretta Scott King A.N.G.E.L. Award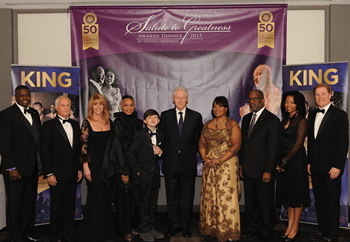 Harris Rosen was one of the four people honored with the A.N.G.E.L. (Advancing Nonviolence through Generations of Exceptional Leadership) award on January 17, 2015. Mr. Rosen was acknowledged for his 20-plus years of commitment to Tangelo Park in which he launched a three-fold educational community service initiative that has had a direct impact on the increase of graduation rates amongst youngsters in the Tangelo community and helped lower the crime rate in the neighborhood.
When Rosen created the Tangelo Park Program, the community's high school dropout rate was 43 percent higher than the national average. Not long after the program began, high school graduation rates soared to almost a zero dropout rate. To date, more than 280 young people have now attended college or vocational schools.
"I am so honored that the Tangelo Park Program has been recognized by The King Center and I am truly humbled to receive an award given in the spirit of Mrs. Coretta Scott King," said Rosen. "I will be happy to accept the honor on behalf of the Tangelo Park community and especially all of the youngsters who have worked so hard over the past 20 years to better themselves through the gift of education."