Participación de la Comunidad
Quiénes somos: Participación de la Comunidad
Building America One Community At a Time®
La comunidad es una de nuestras más altas prioridades en Rosen Hoteles & Resorts. We have a great commitment toward dedicating substantial resources of time, dinero, and hands-on help to the ongoing improvement of our hometown and its people. A través de los años, Hoteles Rosen ha llevado a una serie de iniciativas para mejorar la calidad de vida de nuestros vecinos inmediatos, nuestra ciudad, y nuestra industria.
Donaciones Corporativas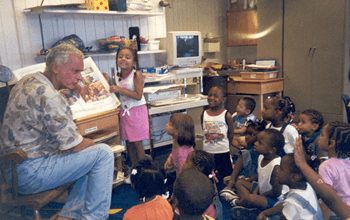 Hoteles y Resorts ® Rosen apoya a las organizaciones que impactan a nuestros asociados y mejoran la calidad de vida en el área de Florida Central. Nuestros recursos financieros y de voluntarios se centran en las áreas de educación, bienestar, bienestar de los animales, y la diversidad cultural.

Todas las peticiones de caridad, ya sea financiera o en especie, deberán presentarse a través de nuestra página web rellenando el línea Comunidad Dando Forma.
Harris Rosen Foundation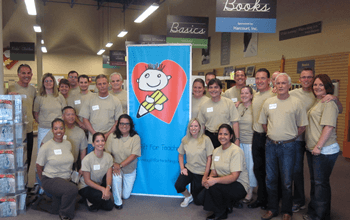 Groups that benefit from the Harris Rosen Foundation are significant to Harris Rosen, presidente y propietario de Rosen Hoteles & Resorts. Aside from his love for the hospitality business, Sr.. Rosen has a passion for giving back. Through the years the foundation has focused on education, the community of Tangelo Park in Orlando, and the people of Haiti. Now that passion is growing and extending to newer communities and groups in need.
Programa Tangelo Park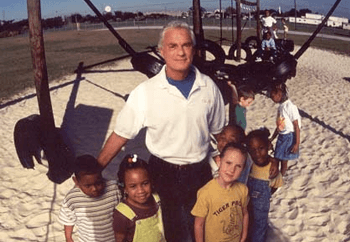 The community of Tangelo Park is located approximately one-quarter mile southeast of Orlando's International Drive tourist area. From the late 1980s through the early 1990s, Tangelo Park characterized a typical urban community with low socioeconomic demographic problems: overt drug problems, poor school attendance, la disminución de resultados de las pruebas y el aumento de las tasas de deserción escolar.

The Tangelo Park Program began as a result of a grass roots program that attracted local media attention and attention from local government, civic groups, y Harris Rosen. En 1993, after a successful effort to reclaim their neighborhood from urban blight and drug dealers, Tangelo Park community leaders met with Mr. Rosen and the Orange County School Board superintendent to discuss the possibility of a scholarship program for Tangelo residents; Juntos establecieron el Programa de Parques Tangelo.

Sr.. Rosen proporcionó el apoyo financiero para el proyecto y colaboró ​​con líderes de la comunidad para establecer una junta consultiva con el apoyo continuo de la Escuela Primaria Tangelo Park, the Tangelo Park YMCA, Iglesia Bautista Tangelo, and the Tangelo Park Civic Association. With financial support guaranteed by Mr. Rosen, the Tangelo Park Program oversees the fundraising, educational needs, and scholarship distributions for its citizens–ages 2 a 22. At no cost to its citizens, TPP offers:
Pre-school opportunities for every Tangelo Park 2-3-4-Year-Old
Parenting classes and vocational or technical opportunities for parents with children in school
Full tuition, habitación, board, and living expenses for every Tangelo Park high school graduate who is accepted by a vocational school, community college, or public university in the state of Florida
Watch a video about the Tangelo Park Program
Visite el sitio web de Tangelo Park
Second Multimillion-Dollar Community Education Initiative Launched in Parramore
Parramore, a neighborhood west of Downtown Orlando, is the next neighborhood Mr. Harris Rosen has his focus on to expand his philanthropic and highly successful community education initiative program that he started in Tangelo Park. This initiative offers free preschool at a new public school set to open in Parramore on August 2017. Teachers' salaries will be paid for by the Harris Rosen Foundation. Twenty-four preschool classrooms designed to accommodate up to 12 children each, for a total of 288 niños, will welcome two-, three-, and four-year-old children.

Children who attend the new elementary and middle school and then graduate from Jones High School, will receive a free two or four-year college or vocational school education, also paid for by the Harris Rosen Foundation. Free tuition includes meals, books, and transportation.

The University of Central Florida (UCF), who is a partner in this initiative, announced that scholarships will be provided to four-year degree students of the College of Medicine who attended the new Parramore School, graduated from Jones High School, and successfully completed an undergraduate program at UCF.
La Beca Fundación Rosen
The Rosen Foundation Scholarship Endowment has been created to fund the Tangelo Park and Parramore Scholarship Programs, el Programa de Becas Escuela de Hostelería UCF, Programa de Becas dependiente y Hoteles & Resorts'Rosen.
Rosen Escuela de Administración Hotelera de la Universidad de Florida Central
Con Orlando convirtiéndose rápidamente en el destino turístico más visitado en el mundo, Harris Rosen cree que sólo sería apropiado para la ciudad para tener el mejor programa de hospitalidad disponible en el país. Donó $10 million to establish the Rosen College of Hospitality Management at the University of Central Florida, que fue construido justo al lado del hotel Rosen Shingle Creek®. El regalo es el más grande jamás prometido o recibido por la Fundación UCF. Bajo la ley actual de la Florida, regalos de este tamaño califican para coincidencia de estado dólar por dólar, que se traduce en $20 million for a facility and faculty providing students with a world-class education equal to the Orlando hospitality industry itself.

Harris Rosen has once more offered a tremendous gift to further secure a high-quality educational institution. For the first time ever, an endowed deanship has been established by Mr. Rosen to secure top talent in this prestigious role amongst faculty. Sr.. Rosen hopes the endowed deanship will help university administrators find and secure the best academic leader available who will offer leadership, vision, and guidance to continue to keep Rosen College of Hospitality Management at UCF on the cutting edge of industry trends.
Bethune-Cookman College Bronze Statue Project
Harris Rosen served as the honorary co-chair of the Bethune-Cookman College Statue Project with the late Dr. Dorthy Height, President Emeriti of the National Council of Negro Women. The purpose of this initiative was to have a statue sculpted of America's beloved Dr. Mary McLeod Bethune including fountains and landscaping on the campus of Bethune-Cookman College, which Dr. Bethune founded in 1904. The fundraiser was a huge success. En enero 2005, the statue was unveiled on the Bethune-Cookman College campus.
YMCA Aquatic Center
Frente a los difíciles tiempos económicos, the YMCA Aquatic Center located on International Drive closed eliminating an important resource for area residents. En 1992 Sr.. Rosen fought to keep the YMCA Aquatic Center open to the public. Revertir esta situación resultaría ser uno de Mr. Mayores retos de Rosen, que se reunió con éxito.

The Aquatic Center reopened its doors and now serves the best youth group of divers in America, nadadores sincronizados, master swimmers, nadadores de la escuela secundaria, y de la tercera edad en busca de tratamiento de agua terapéutica.
Haití Relief-Reconstruir-Sustain Program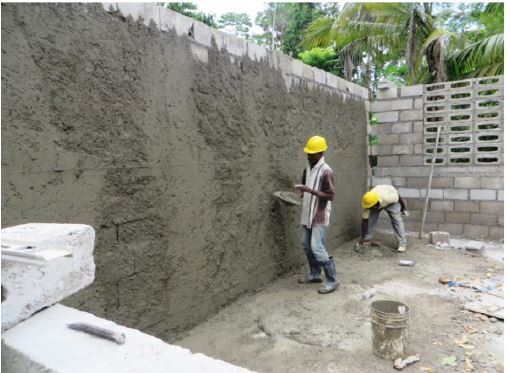 The Harris Rosen Foundation has been dedicated to helping Haitian brothers and sisters living in Haiti attain a level of self-sufficiency for over a decade. It assists in the areas of education and health with donations to hospitals, orphanages, and schools in Haiti. Over the years our Haiti Task Force visited Haiti several times to deliver medical and school supplies, which were collected in the Central Florida area through supply drives and donations from local businesses. In addition to analyzing the needs of Haitians and devising a plan of action to help, they are also responsible for ensuring all supplies delivered to Haiti go directly to the people who most need help.

The one area where Haiti needed the most help is one we often take for granted: a clean water supply. In Haiti much of the water is so contaminated that just one glass may cause serious illness or even death. On September 10, 2005, The Harris Rosen Foundation and the Task Force hosted the Water for Haiti Gala. Los fondos recaudados en este evento de gala se utilizaron para comprar cerca de 250 water filtration systems that were delivered to hospitals and schools in rural areas of Haiti.

Weeks after the historic and devastating earthquake of 2010, the foundation delivered 20,000 libras de suministros a las zonas de Port-au-Prince y Beauchamp. Our people were on the ground in Haiti, junto con aviones de ala fija, to facilitate delivery of these urgently needed medical supplies to wherever they were needed.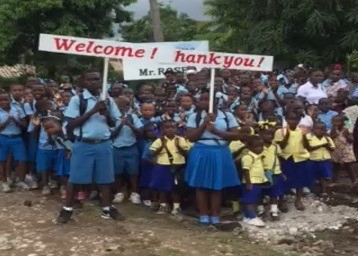 Desde 2010, la Fundación se ha centrado en la reconstrucción y el mantenimiento, including identifying ways to design and construct sturdier buildings. El plan era construir ecológico, earthquake-and-hurricane-resistant houses called "Little Haiti Houses." Mr. Rosen y su equipo trabajaron con el gobierno de Haití en la conservación de tierras, pero cuando las negociaciones terminaron en la disolución de un Memorando de Entendimiento, el proyecto quedó en suspenso.

Haga clic aquí para recibir actualizaciones sobre las iniciativas de la Fundación Haití Rosen
Coretta Scott King A.N.G.E.L. Award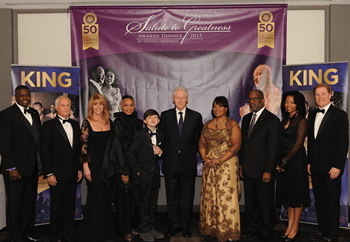 Harris Rosen was one of the four people honored with the A.N.G.E.L. (Advancing Nonviolence through Generations of Exceptional Leadership) award on January 17, 2015. Sr.. Rosen was acknowledged for his 20-plus years of commitment to Tangelo Park in which he launched a three-fold educational community service initiative that has had a direct impact on the increase of graduation rates amongst youngsters in the Tangelo community and helped lower the crime rate in the neighborhood.

When Rosen created the Tangelo Park Program, the community's high school dropout rate was 43 percent higher than the national average. Not long after the program began, high school graduation rates soared to almost a zero dropout rate. To date, más que 280 young people have now attended college or vocational schools.

"I am so honored that the Tangelo Park Program has been recognized by The King Center and I am truly humbled to receive an award given in the spirit of Mrs. Coretta Scott King,", Dijo Rosen. "I will be happy to accept the honor on behalf of the Tangelo Park community and especially all of the youngsters who have worked so hard over the past 20 years to better themselves through the gift of education."
Jack & Lee Rosen Southwest Orlando Campus and the Rosen JCC
Since the Harris Rosen Foundation purchased the property on which the Jewish Community Center owns and operates the Jack & Lee Rosen Southwest Orlando Campus, the campus has seen a boom in growth and improvement. Harris Rosen's goal is to promote the JCC within the community and to help this campus grow to accommodate its increasing membership. "These and future additions will help make the Jack & Lee Rosen Southwest Orlando Campus a more integral and permanent part of the Jewish community,", Dijo Rosen. "Education and recreation are vital to the center's role in the community." He's also pledged to help significantly reduce the debit of the Maitland Jewish Community Campus by spearheading a $1 million matching funds capital campaign. Learn more about the Jack & Lee Rosen Southwest Orlando Campus and Rosen JCC.
Cornell Alternative Spring Break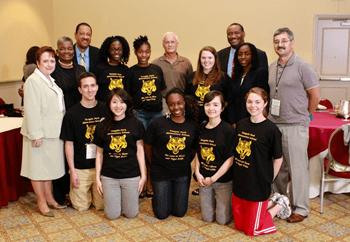 En marzo 2008, Cornell University expanded its Alternative Spring Break program to send its college students to Tangelo Park in Orlando, Florida. Cornell students who volunteered for this hands-on learning opportunity in our city spent spring break with the children of Tangelo Park to enrich their college studies and, in turn, enrich the lives of the children they served. Every year since, Cornell students spend their spring break volunteering in Tangelo Park.

The inaugural spring break of 2008 attracted nine students to spend a majority of their time working with pre-school through fifth grade students at the Tangelo Park Elementary School. They also participated in a science night in conjunction with sixth graders from Southwest Middle School. Cornell students also mentored students of Southwest Middle School and Dr. High School Phillips. Within their busy week, estudiantes de Cornell hizo tiempo para proyectos de arte con algunos de los dos, three-, and four-year-old children in the community.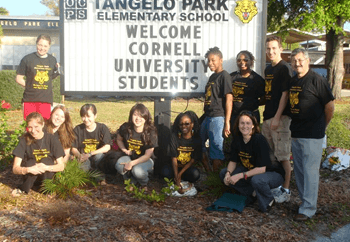 Cornell University's Alternative Spring Break program offers its students the chance to hear personal stories from the students and residents of Tangelo Park, educators, service personnel, and care providers who all provide insight into the Tangelo Park community. The week ends with a reflection session where Cornell students and a planning team examine the effects of public service and philanthropy on at-risk families and their experience with socioeconomic diversity, community involvement, and current social issues in the Tangelo Park community.
Green Meetings & Iniciativas de alojamientos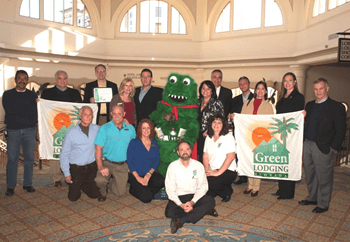 En 2008, Rosen Hoteles & Resorts lanzó Reuniones Rosen verdes, una iniciativa reuniones con el medio ambiente diseñado para ayudar a los planificadores de reuniones en la reducción de las cargas a los recursos naturales de la Florida típicamente asociados con grandes reuniones y convenciones, incluyendo la reducción del exceso de papel dádivas y formas. En el sitio web Reuniones Rosen verde (www.rosengreenmeetings.com), planificadores encontrarán consejos para la celebración de reuniones más verde y enlaces a organizaciones de reuniones verdes adicionales. Los planificadores también aprenderán con mayor detalle cómo Rosen Hoteles & Resorts ayuda al medio ambiente local, mientras que recibe grandes conferencias, reuniones, y vacaciones.

El Departamento de Protección Ambiental de Florida reconoce Rosen Hotel & Resorts ® para estos esfuerzos, a la que hemos sido galardonados con el estimado de alojamiento ecológico Programa de tres y dos designaciones Palm Hotel. Estos premios certifican que un hotel se ha incrementado de manera voluntaria medidas de conservación y prevención de la contaminación de energía y se ha comprometido a la conservación y protección de los recursos naturales locales.

También es más fácil para nuestros clientes disfruten de una estancia consciente del medio ambiente en nuestros hoteles. Los huéspedes del Rosen Plaza ®, Rosen Centre®, y Rosen Shingle Creek® tienen acceso a las estaciones de carga de vehículos eléctricos, Gracias a una asociación con Orlando Compañía de Servicios. Un jardín de hierbas orgánico, a Rosen Shingle Creek® ofrece sabores de la granja a la mesa, y el Creek Golf Club de arena convierte el aceite de cocina usado de los restaurantes del hotel en bio-combustible utilizado por nuestro equipo de mantenimiento de campos de golf. restos de comida de los restaurantes se convierte en alimento para animales y abono por una instalación externa. Para todos los esfuerzos visibles para los huéspedes, al igual que muchos, si no más, llevará a cabo entre bastidores. En lugar de conducir al trabajo, Rosen asociados pueden optar por viajar en el autobús a un precio reducido, búsqueda de oportunidades de viaje compartido publicado en un tablón de anuncios en toda la empresa, o, en algunos departamentos, optar por trabajar horarios alternos de cuatro días de 10 horas para ayudar a reducir los costos de gas.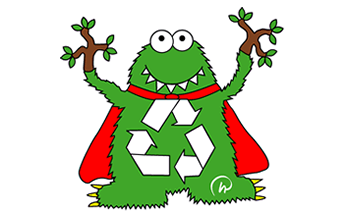 Nuestros esfuerzos ecológicos son una gran parte de la forma en Hoteles & Resorts Rosen de la vida, tanto que hemos adoptado una mascota amistoso verde llamado Nesor, el héroe de Eco, para simbolizar nuestros esfuerzos de conservación del medio ambiente,. (Nesor es Rosen escrito al revés.) "Nesor asiste a eventos de la comunidad y de los empleados y recuerda a la zona central de la Florida sobre la importancia de ser verde,"Said Dee Dee Baggitt, Director de Ingeniería. Una vez al año, un asociado que ha promovido esfuerzos sobresalientes verdes y ha creado nuevas formas de ayudar al medio ambiente es reconocida con el Premio Comisario Ambiental. Ser verde no es sólo parte de nuestra cultura, que es una parte muy importante de la forma en que hacemos negocios.