Free wireless internet access now available
At Rosen Hotel & Resorts®, we have always taken great pride in providing exceptional value and service. That's why we are extremely pleased to announce the addition of free internet access in our guestrooms and public areas. No special resort fee added to the cost because to us, free means free. Allow us the privilege to help you select a Rosen Planner Perks™ package that meets your needs, call (407) 996-9939 or e-mail Sales@RosenHotels.com today.
---
Rosen Planner Perks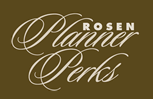 When you plan a meeting with Rosen Hotels & Resorts® in Orlando, you can rest assured that you will receive the highest level of quality, unsurpassed service, and for a limited time, alot of perks too!
And, be sure to enter to win on-going Rosen Planner Perks. By joining our email list, you will be entered to win incredible prizes all year long. It's fun. It's easy. Enter here, today.