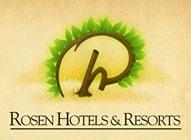 Rosen Green Meetings® are events which are conducted in specific ways which help reduce the environmental burdens imposed by such activities. Rosen Hotels & Resorts® have applied environmentally friendly methods to manage waste, energy use, water conservation, and clean air practice and promotion. Our latest efforts include removing drinking straws from most restaurants and food outlets to help keep it from oceans where it could harm marine life and pollute the environment.
Green event and convention planning is now an established trend within the United States meeting and convention industry. Rosen Hotels & Resorts® is proud to promote green meetings, conferences, convention planning and green hotels as the demand and importance for sustainability measures increases.
Green conventions, meetings, conferencing, hotels and events are part of an international movement to achieve a sustainable world economy and livable planet.
10 Tips to a Green Meeting
Make presentation handouts available online, send them electronically on request after the meeting or copy them onto USB drives/portable storage devices to distribute. When needed, print handout materials on both the front and back sides of the paper.
Reduce paper by allowing attendees to register online. Confirm registration by email when possible.
Print materials on recycled-content paper and include a note identifying the percent of recycled content in the paper used. Avoid goldenrod or bright, fluorescent colored paper because it is hard to recycle. Use soy ink if possible. Try to print only the amount needed to distribute.
Use nametags in reusable holders. Be sure to have a collection box so that after the meeting, attendees can leave their nametags for your future use.
Use reusable or recyclable signs to direct people to appropriate meeting rooms.
Remove unused papers from the meeting room for reuse within your own office or deposit unneeded paper in designated recycling bins.
If you are going to give away promotional items to your meeting's attendees, consider purchasing useful reusable items that are made from recycled materials. Also consider promotional items that are energy efficient and only use items that do not contain toxic material.
Ask speakers to use an overhead or a slide projector to present material instead of using flip charts or handouts. Remind speakers when they are booked that many handouts end up in the trash.
Be sure to tell attendees about your efforts in pre-meeting brochures, meeting updates and with verbal reminders during the event. Ask participants for their cooperation and participation. If a meeting evaluation is conducted, ask attendees for feedback and suggestions on the "green" efforts included. Learn more about Green Meetings
Post minutes or other handouts on the Internet or circulate them electronically after the meeting.