Rosen Hotels & Resorts' Vice President & Chief Financial Officer Frank Santos also recognized with the Outstanding Philanthropist Award for 2023.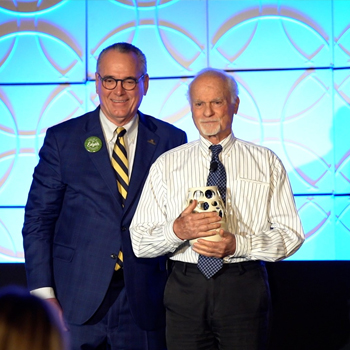 ORLANDO, FL (November 3, 2023) – Today, the Association of Fundraising Professionals (AFP) recognized Orlando hotelier and philanthropist Harris Rosen with the esteemed H. Clifford Lee Lifetime Achievement Award. The prestigious honor is awarded annually to an individual who demonstrates exceptional charitable efforts and philanthropic contributions within the Central Florida community.
Over the past 30 years, Harris Rosen's name has become a symbol of commitment to serving and giving back. Aside from being a renowned hospitality leader, Rosen is most proud of his work in Orlando's Tangelo Park and Parramore neighborhoods, where he established free preschool programs for two-, three- and four-year-olds. His programs also provide the students with scholarships to attend any public college or university in Florida or a vocational school of their choice once they graduate high school. By covering tuition, room & board and books, the scholarships set up the students to graduate debt-free.
In addition to education initiatives, Mr. Rosen saved a former local YMCA from closing its doors and developed it into what is known today as the Rosen Aquatic & Fitness Center. The state-of-the-art, non-profit facility is one of the largest competitive facilities in the southeast, also providing swimming lessons for both children and adults in the community. Mr. Rosen is also deeply involved with various local organizations, including Runway to Hope, the Rosen JCC and UCF's Rosen College of Hospitality Management.
Mr. Rosen's humanitarian service extends beyond Central Florida. He donated $12 million to help build a world-class neuro-oncology laboratory at the University of Florida to honor his late son, Adam Michael Rosen, following his battle with brain cancer. Over the past decade, Mr. Rosen has also supported multiple relief efforts in Haiti to aid in the recovery from natural disasters.
"I remember hearing a voice telling me, 'Harris, I have blessed you beyond your wildest dreams. Now it's your turn to offer a helping hand to those in need,'" said Mr. Rosen. "It's an honor to receive this award, and I only hope I can inspire others to give back in any way they can."
In the same respect, Frank Santos, vice president & chief financial officer of Rosen Hotels & Resorts, received the Kenneth F. Murrah, Esq. Award for Outstanding Philanthropist. Within the Orlando area, Santos is heavily involved in the performing arts community, serving on the board of three Orlando arts organizations and providing contributions to multiple theaters in town. Additionally, Frank has served for 27 years on the board of Canine Companions, a nonprofit organization that serves people with disabilities, pairing them with trained service dogs.
Most notably, Santos has focused his philanthropy on Runway to Hope, a local organization that supports children and families who are battling pediatric cancer.
"We are grateful that Frank has chosen Orlando to be the heart and center of his philanthropy because, without him, we literally would not be where we are today," said Laura Lockner, executive director of Runway to Hope. "There are not enough words to properly describe Frank's worthiness of this recognition."
The honorees were celebrated at the annual National Philanthropy Day, hosted by the AFP at Rosen Shingle Creek. This event serves as a platform to highlight the impact of fundraising professionals, nonprofit organizations, and philanthropic individuals and businesses in Central Florida.
The honorees are selected by an awards committee of AFP First Coast Chapter members (Jacksonville, FL) who purposely do not know the nominees to ensure fair judgment.
For media inquiries, please contact Robert Hubler or Gisselle Garcia at the public relations department for Rosen Hotels & Resorts, (407) 640-6967 (office), (407) 451-5188 (cell) or ggarcia@rosenhotels.com.