Rosen receives not one, but two generous donations to go toward his foundations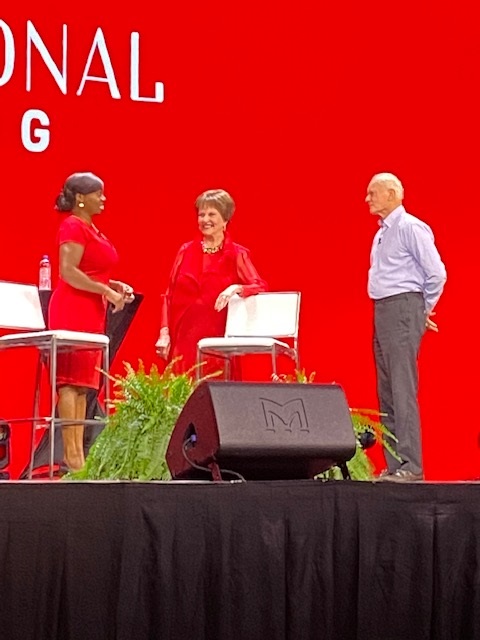 Orlando, FL, March, 2022 — Harris Rosen, one of Central Florida's most generous philanthropists, received not one, but two donations of $10,000 each at the Keller-Williams Family Reunion held recently at the Orange County Convention Center. KW Vice Chairman Mo Anderson presented Rosen the checks during KW's Inspirational Morning event, honoring people making a difference in their communities here at home and around the world.
The first donation went to the Adam Michael Rosen Foundation, which honors the remarkable life and legacy of Mr. Rosen's son, Adam, and all warriors battling cancer. Mr. Rosen has donated more than 10 million dollars from the Harris Rosen Foundation to help build a new, world-class neuro-oncology laboratory at the University of Florida. The Adam Michael Rosen Neuro-Oncology Laboratories allow some of the top brain cancer researchers to work with the best equipment to research how best to fight malignant brain tumor cells. In accepting this donation, Mr. Rosen said he has seen the work being done at UF and progress is tremendous. "Every little bit helps in this fight. My hope is that one day we will have a treatment and a cure for all brain cancers, but until that day we must do what we can to help the researchers do their research and the warriors their battle," said Rosen. "He (Rosen) has turned the pain of loss into positivity and into hope that is changing lives all over the world," Anderson added.
The second donation of 10 thousand dollars will go to the Tangelo Park Preschool Foundation, one of two highly successful education initiatives Rosen created in Tangelo Park and Parramore, designed to give children in those communities the head start they need for school and the means to continue to college with all-expense paid scholarships upon graduation. One Rosen college scholarship recipient, Tamara Fourth, who met Mr. Rosen on stage at the event, talked about how the scholarship is the blessing that keeps giving. She says she now pays that generosity forward as a speech therapist. "I just completed screenings on 25 Rosen preschoolers and provided parents with recommendations. It warms my heart knowing that I am giving back to the foundation and the community that once gave back to me," Fourth said. "The results from these programs are undeniable and I encourage other business leaders to invest in their underserved communities, simply speaking, because it is just the right thing to do," Rosen added.
Harris Rosen is the Founder, President and COO of Rosen Hotels & Resorts and an impassioned philanthropist. His record of giving back and bettering the community is legendary.
If you would like more information about Harris Rosen or the foundations, please contact Rob Hubler, Public Relations Manager at Rosen Hotels & Resorts, 407-996-7656 or rhubler@rosenhotels.com.