Rosen calls for others to join him and change America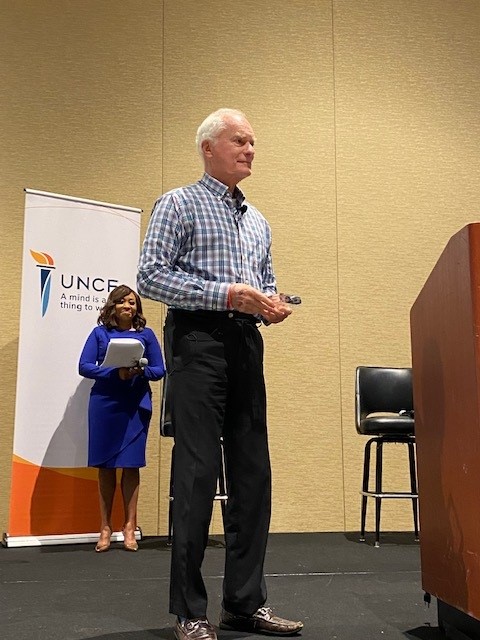 Orlando, FL, March 25, 2022 — The United Negro College Fund Central Florida Chapter honored Hotelier Harris Rosen this week as its 2022 UNCF Community Champion of Education Award recipient. At the UNCF's annual luncheon, held at Rosen Centre, Rosen accepted the award given for his work in establishing two early education programs for both the Tangelo Park and Parramore communities. Both initiatives also reward eligible high school graduates from those underserved communities with scholarships to a community or 4-year college or trade schools, covering tuition and books, and room and board.
Both the Tangelo Park Program and the Parramore PS8 Program have demonstrated tremendous success, delivering hundreds of scholarships, sending high school graduation rates soaring and crime rates dropping in those communities.
Mr. Rosen's message to the crowd was a simple one, join him for a better tomorrow and watch our neighborhoods blossom. "What would the United States of America look like if more, similar programs were available? We wouldn't recognize ourselves. Every youngster, in every underserved community would have this wonderful opportunity," Rosen said. "My dream is that those who can afford to create a Tangelo Park or Parramore program, will step forward and do it," Rosen added.
The UNCF was founded in 1944 to help Black students attend and graduate college. Thirty-seven historically Black colleges and universities (HBCU's) belong to the UNCF network. The UNCF provides these institutions with a range of support to keep their programs strong and their tuitions affordable.
If you would like more information about Harris Rosen or the Tangelo Park and Parramore programs, please visit www.rosenhotels.com or contact Rob Hubler, Public Relations Manager at Rosen Hotels & Resorts, 407-996-7656 or rhubler@rosenhotels.com.
About us: Founded in 1974, Rosen Hotels & Resorts® is patterned on the vision and principles of founder, president, and COO, Harris Rosen- a total commitment to unwavering honesty and integrity, the security and wellbeing of associates, high quality hospitality products, exceptional guest services, unmatched value, the continuing improvement of the industry, and ongoing enhancement of the community.